I wanted to show you my front yard, because I think it's pretty special.
When Jason and I got married back in January, I moved to his home, which is in the sticks. I've had yards to care for in the past, but this is the first time I've actively loved having a yard. And it's a nice one, too. Almost half an acre. That's a lot of yard work, and this one needs a lot of work. No offense to Jason.
Neither Jason nor I really have the gift of the green thumb. Or the desire to work in the heat. Or to work in the yard, period. No, I take that back. I do enjoy working in the yard,
now
, but if you'd asked me a few years ago, I'd say a big NO, though I have always loved to visit beautiful local gardens and look at landscaping in magazines and blogs, and
pinterest
, and daydream about an English garden, etc.
A big help was getting a riding mower last year. I don't know how this man of mine survived mowing this lawn for almost ten years with a push mower that isn't even self-propelled. I tried to help him out once and my heart almost exploded in the heat. So, last year I said we weren't going through that again, and bought a used John Deere riding mower. Best purchase ever.
This mower is vintage 1980's and it runs like a charm.
I knew it was meant to be when I answered the craigslist ad
and found that the seller is a former co-worker of mine.
View from the front porch.
Just past those crepe myrtles, across the street, and past the neighbor's yard, and the marsh, is the York River.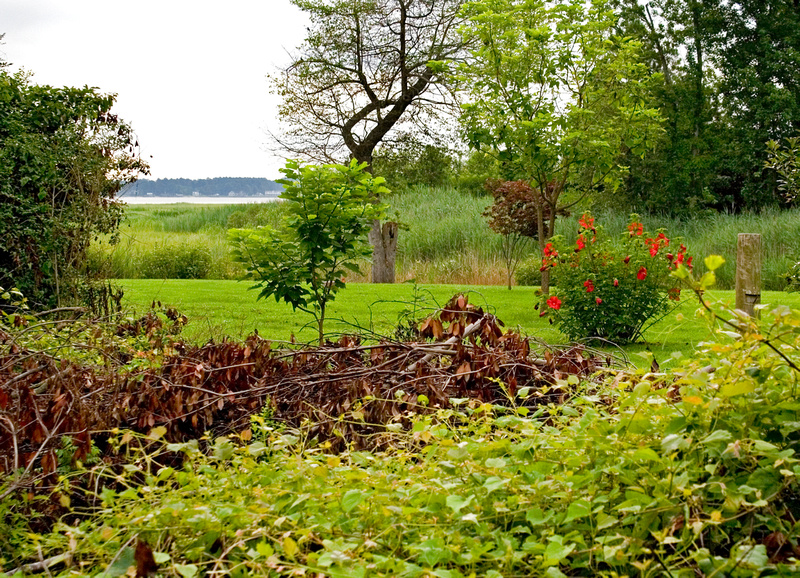 This is standing at the road at the end of our front yard looking past the neighbor's yard to the York River.
Can you see it? It's just a sliver but it's there.
We have a better view of the river from our bedroom window upstairs. I regularly fantasize about making that window into a door and building a deck off the bedroom so we can sit out and watch the rivah.
looking back at our house from the road
Everything in this yard was planted by Jason when the house was built over 10 years ago; the trees, crepe myrtles, hydrangea, pine tree, and the Cleveland Pear trees and various shrubs in the back yard.
I called this my new flower bed in an email to my family, and my sister wrote back, "

Hahaha....

flower

bed

or statuary

bed

?"
I guess we'll stick with rock/sculpture garden for now. =)
Either way it's a world away from what it used to be. It was full of weeds and tall grass and I'd been looking at it for two years, trying to keep up with pulling weeds that seemed to come back the next day. So, after digging out the bags of lava rocks that we bought and threw in the bed so long ago that they were no longer visible, one day after work I just started digging everything up and tearing everything out. (When I want to do something I want it done right then and there. Too bad I'm not like that more often in my daily life.)
There were all manner of crazy things growing in this flower bed, which I would categorize as undesirable. I even dug out a huge
spiderwort
that just took over half of the flower bed. Some people might want that in their gardens. I do not. I know my limitations, so I wanted a flower bed that was no fuss. Hence, the rock/sculpture garden. We have yet to do the bed to the right side of the porch.
Speaking of the porch. We borrowed my parents' power washer and cleaned it and now it just needs to be stained and the railings painted white. I also want some risers added to close in those steps and make it more polished, like
this
or even
this
.
Last year we did install a screen/storm door. I can't believe he lived this long without one. We decided on forest green to match the main door. What a difference that has made to be able to have the front door open. Plus, it just looks more complete.
We also have to paint those shutters. The dark green on the front doors just shows how faded the shutters are. I'm painting them a dark red color. I have the spray paint for them, but am just not the inclined yet. Little by little.
The hydrangea and azalea spooning.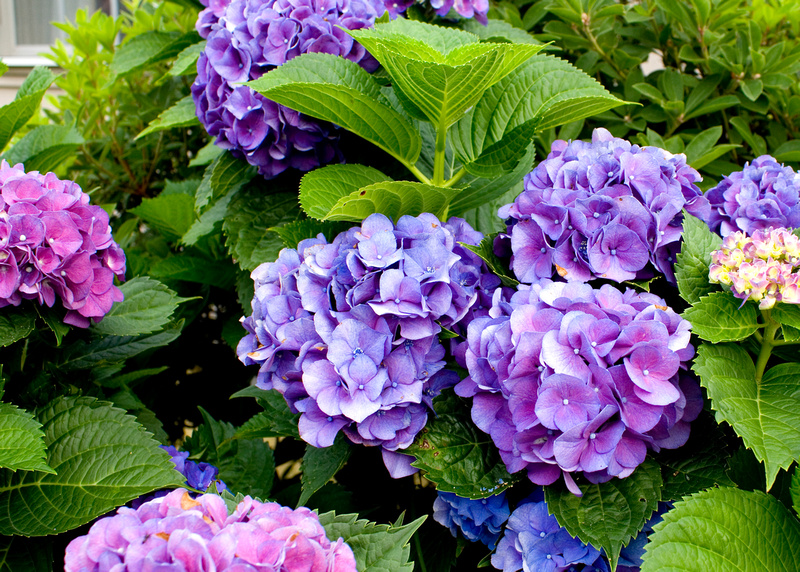 Gorgeous colors.
I know our yard is not perfectly manicured like all the gorgeous gardens and landscaping you see on other blogs, but that's okay with us. It's a work in progress. Besides, it will probably never be Better Homes & Gardens worthy, but we love it and that's what counts.
Angel in the garden
And frogs.
And gnomes and frogs.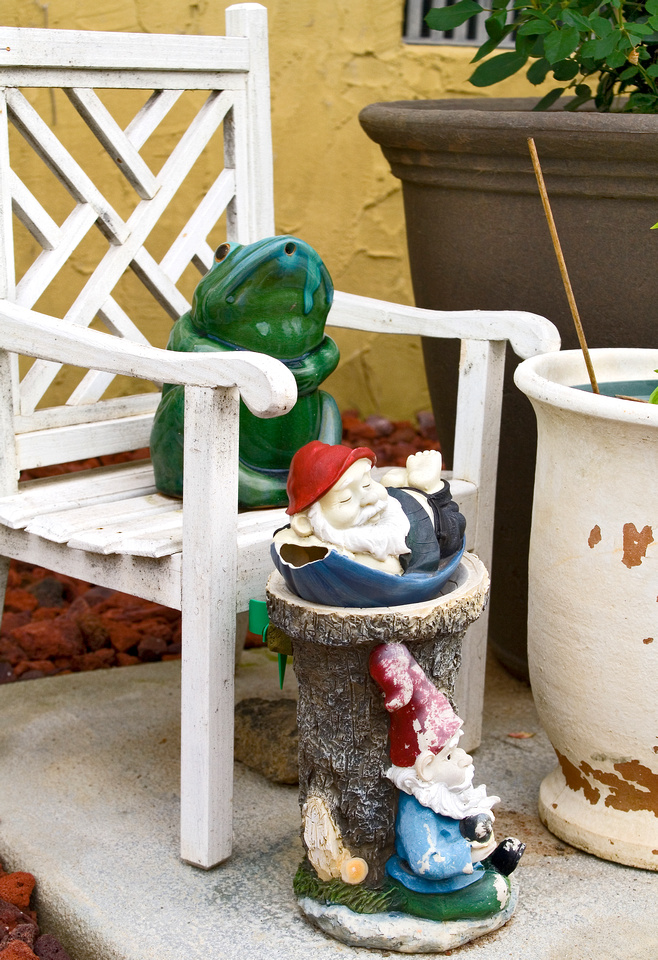 Lots of gnomes and frogs.
Jason's granddad made the sweet little white chair above. He was a woodworker, and we have a lot of his pieces in the house. I never met him, as he passed away many years ago. So, it's nice to have a little bit of Jason's granddad with us. My Dad is a wood worker, too, so I know those two would have gotten along well.
The little house on the step was also made many years ago by Jason's Granddad.
I just recently plucked it out from under a big pine tree that grew around it. That's why it's not in great shape, but it's still cute.
So, that's the front yard. You already saw the backyard, which is not in as nice a state, and I will spare you the driveway view, because it is in dire need of gravel.
I have so many landscaping plans spinning around in my head. Probably overly ambitious plans for us right now. Baby steps. We'll get there.